Welcome to the My Colony Wiki
My Colony is a brand new space colonization simulation and strategy game developed by Brandon Stecklein and published by Ape Apps. It is available on PC, and mobile, for both Apple and Android operating systems. It is also available via HTML5 in the beta testing version (here) or from the Google Chrome web store (here). Currently, My Colony is in active development, and very open to feedback and suggestions from users like you. So please try out the game and leave comments and feedback at the forums (here ) to help shape how this epic new simulation will unfold! (The current public version is version 0.99.0)
My Colony Wiki is a new wiki founded on November 12, 2016 by Mel Hood (Mel's user page is here if you want to send a message) and needs help from readers like you (yes, you!) to help edit and create new articles as there are very few admins managing this wiki and we can't do it alone. Our goal is to provide a comprehensive description for every building and resource in the game. So why not help out by clicking on the "Edit" button on the top right of the page and write a few sentences or even just add an image?
But regardless of whether you edit or not, thanks for dropping by and hope you enjoy your time here! Just scroll down to the bottom of the page and click on one of the categories to start browsing!
Latest activity
Start browsing by clicking the categories below!
Photos and videos are a great way to add visuals to your wiki. Find videos about your topic by exploring Fandom's Video Library.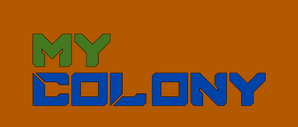 Community content is available under
CC-BY-SA
unless otherwise noted.